At the beginning of September, we received an inquiry from an Omani customer, Mr. Ayman, for an orange juice vending machine. The customer is a self-employed individual. Due to the epidemic, I currently want to invest in this industry and also sent inquiries to different suppliers. This customer originally wanted to put oranges on top. Old-fashioned machine, wanted another brand's squeeze method. After communication, the customer accepted our proposal
The point where our machine wins is
Our orange track display will not rot the oranges when stacked together like old-fashioned machines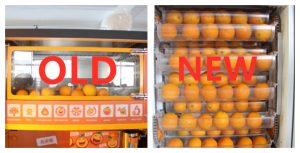 The visual window, customers feel very safe and sanitary
Our customized service, the whole process to help customers design the appearance of the stickers he wants, his screen background, music, language can be customized according to their preferences
Our service, always help customers follow up the machine situation, debugging before going out, and video make customers very satisfied with us
Our prices are negotiated and available for mutual benefit and win-win
During production
We help customers solve currency problems, conduct tests, and actively help customers design stickers. Customers are also very patient to communicate their ideas and suggestions with us, and are very satisfied with the results.
Before leaving the factory
We help customers debug the machine, solve all minor problems, and ensure that the customer can debug and use the machine after receiving it, and we have free teaching videos. If customers have any problems, we can remotely guide customers online to make it more convenient for customers to use
We always insist that "customers are first", we will try our best to meet customer requirements, there is nothing we can't do, only you can't think of!