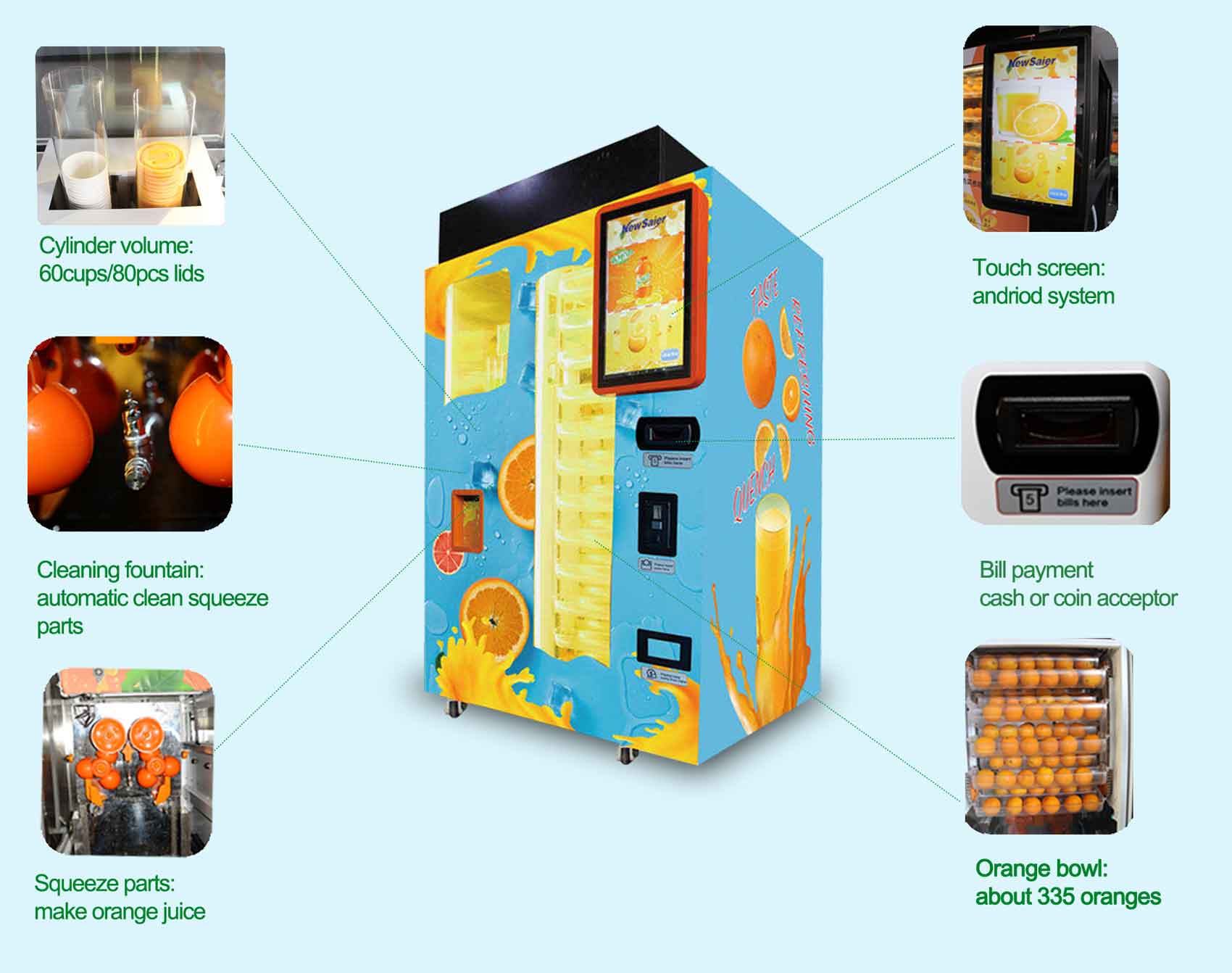 Orange Juice Vending Machine
OEM customization :Appearance, Language customization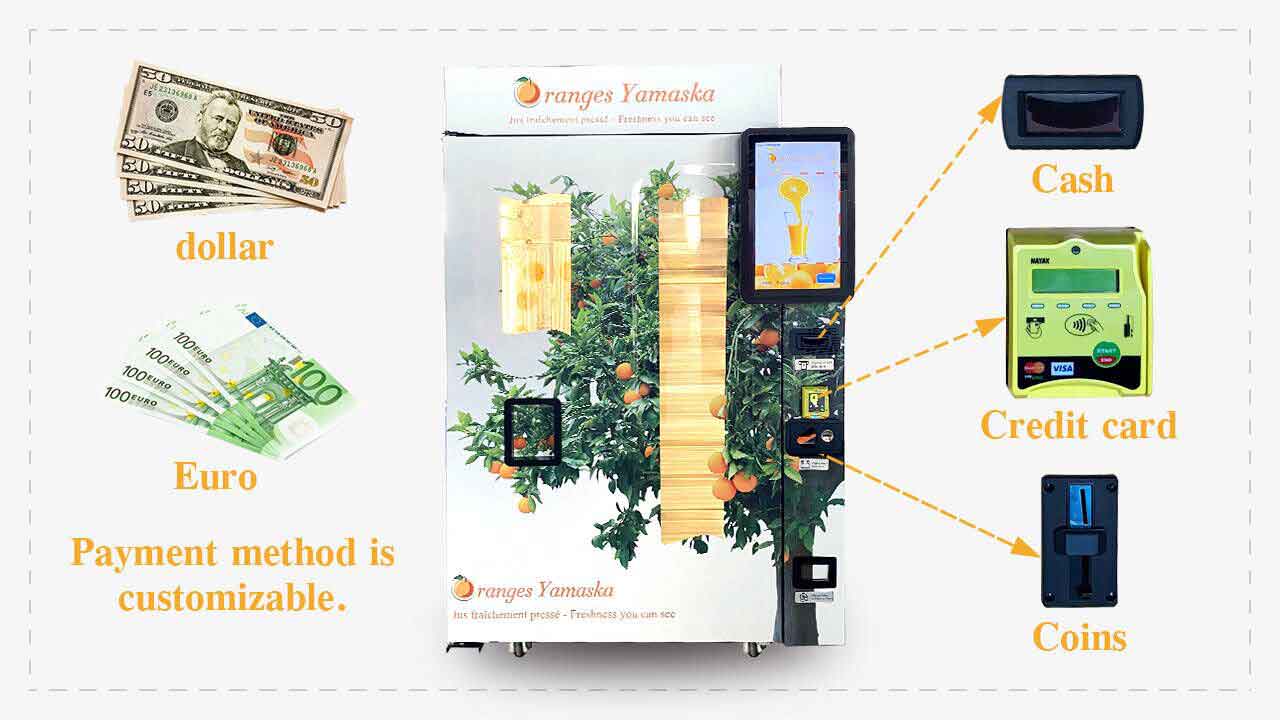 NEWSAIER
Orange Juice Vending Machine Application:
---
There are an unlimited number of locations that Freshly squeezed orange juice vending machine can be successfully located, just some locations that can work well at are as follows:Schools,Gymnasiums,Train Stations,Recreation Center,Sports Stadiums,Shopping,Center,Hospitals,Airports etc.
Features
This is the 1st item
This is the 2nd item
---
Always fresh With ozone disinfection and refrigerator that stores the oranges at 5º C
21.6" LCD display Touchscreen display with Ad space
Diversified Payment Methods Bills, credit card and NFC payments
Visual window Customers can watch the squeezing process
All the information in real time Keep up to date with your sales and the profitability
---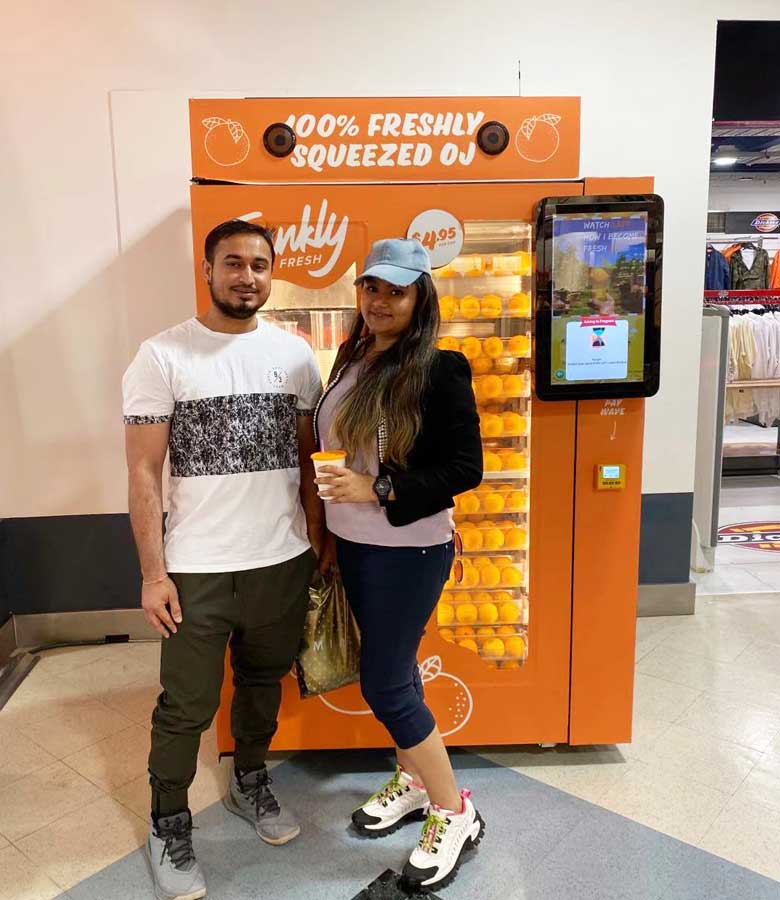 NEWSAIER
Orange juice vending machines are very popular all over the world.
---
Especially in some South America, such as Bolivia, Ecuador, Uruguay, Venezuela. We also have some clients from Australia, New Zealand and some Europe countries. In some Arabia countries, such as UAE, Saudi Arabia, Oman, Qatar, their demands to pursuit intelligent machines are satisfied.
We not only supply good quality machines with intelligent system, but also supply remote technical support, such as video guide or video call. And our engineers will visit some agents in Europe and USA every year. We believe we will be your reliable back force as soon as you choose us.
Orange juice vending machine
Parameters
Machine size
1330*930*2100 mm
Orange storage
About 335 oranges
Cup size
12OZ(350ml +/-)
Temperature
Adjustable from 0-5 degree
Squeezing speed
45 secs
Payment methods
Coins and notes acceptor,credit card