Are you looking for the best commercial citrus juicer? Whether used in business or at home, the juicer must manage to extract juice from citrus fruits quickly and efficiently. Given that there are various models on the market for you to choose from, it is not easy to buy such a juicer, which is why we are here to help. Today we take a look
An ideal equipment for making delicious orange juices that can be used peeled or without peeling. It can effectively extract juice from oranges,lemons,pomegrantes,ect.. It is designed to work continuously, easy to handle, used in restaurants, hotels, Snack, toy stores, mall or any business.
This orange juice machine has an attractive design and made out of high-quality food-grade stainless steel and PP material. Won't easily be scratched or dented.
Key Features
Large Orange Basket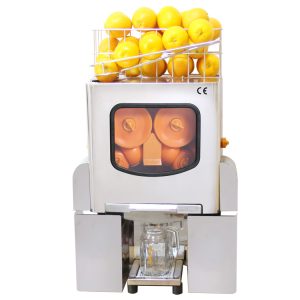 The orange machine is equipped with a large capacity orange storage basket, reducing the number of pick-ups and improving work efficiency. Suitable for oranges with a diameter of 40-80mm.
Efficient Squeezing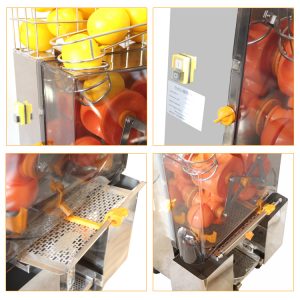 Compared to the size of the old convex, the new one is increased 5mm bigger,which is increased by 60%-65% compared to the previous. It can squeeze up to 20-30 oranges per minute.
Filter Box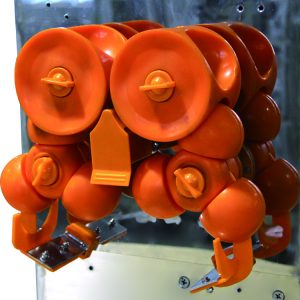 Compared with the old filter hole, the new type is combined with round hole and kidney-shaped hole. The combination of the two shapes of the holes can prevent the pulp from blocking and improve the juice yield.
Easy To Assemble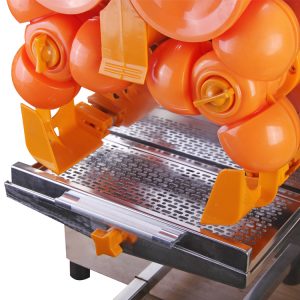 There are two peel collection buckets for collecting waste peels and residues after juice extraction, and a drip tray is used to fix the juice cup. They are easy to assemble and disassemble, and easy to clean.
The machine will peel the skin, produce fresh juice and automatically filter it. You will get delicious fresh juice without any additives. Reasonable design, advanced appearance and internal structure. Our juicer is made of the highest quality stainless steel and is made for commercial business environments. The feature of this machine is that there are no preservatives, colors, flavors and water in the fresh juice. It is completely different from another juice on the market. With these machines, you only need to preserve and clean the fresh oranges, and the machine will peel, produce fresh juice, and filter it automatically. The product is carefully designed and advanced, all materials are made of stainless steel and PC plastic, safe and secure.