Shanghai Hotel Supplies and Catering Industry Expo, known as the "weathervane" of the industry, was held at the Shanghai National Convention and Exhibition Center from March 29th to April 1st.
On the occasion of the 30th anniversary of the HOTELEX exhibition, the exhibition area was expanded to 400,000 square meters and lasted for 4 days. In the exhibition hall, there are 3,000 high-quality exhibitors from thematic exhibition areas including catering, tableware, coffee and tea, beverage integration, cooking ingredients, baking, ice cream, wine and spirits. By then, more than 3,000 companies will bring hundreds of thousands of high-quality products and industry solutions to provide professional buyers with more abundant procurement channels. NEWSAIER also takes this opportunity to provide freshly ground milk coffee service solutions for catering, hotels, offices and other major scenes.
Faced with the recent trend of freshly ground coffee, and at the same time in order to meet the growing coffee demand of customers, many HORECA scenarios bind freshly ground coffee machines as one of the indispensable standard equipment. Aiming at such a large volume of coffee consumption scenes, Gino Smart will bring you NS5000A fully automatic freshly ground coffee series during this exhibition.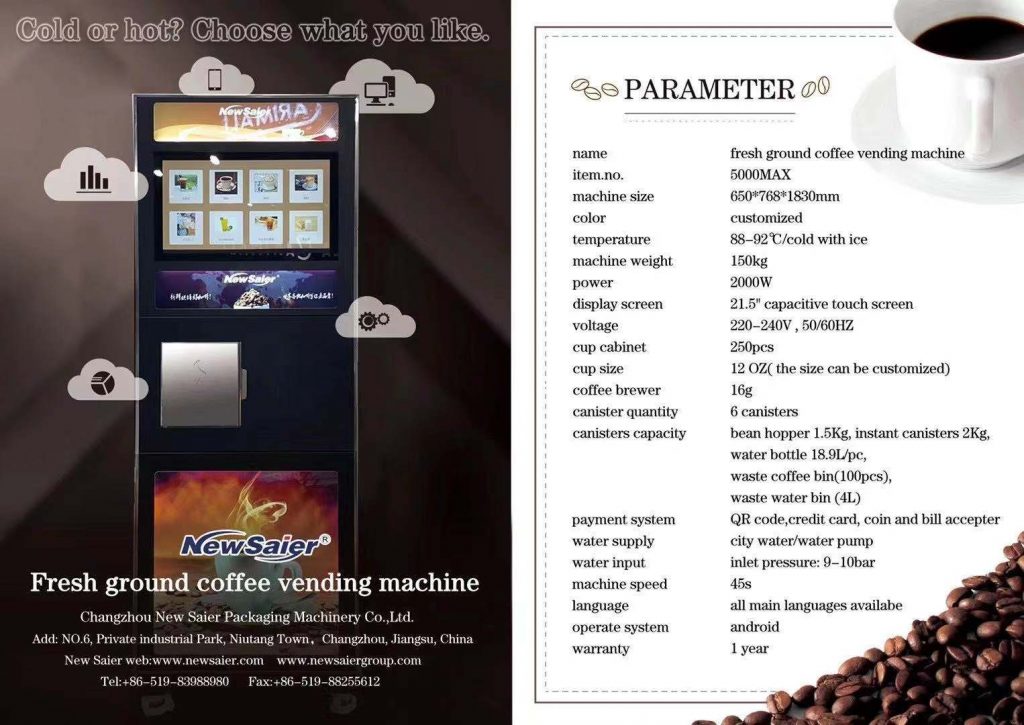 Aiming at the coffee service plan of the hotel conference scene, the NEWSAIER BNS5000A automatic cup-dropping freshly ground cabinet coffee machine is a good helper for customers' business negotiations and conference presentations. The number of cups inside can be more than 250 cups, which can basically meet the demand for freshly ground coffee in most small and medium-sized meetings, eliminate the fatigue of participants, and its automatic cup drop and unmanned sales function does not require hotel staff for long Stationed, the hotel can more flexibly and focus on serving the emergencies of the meeting site and the status of the meeting personnel, and promote the efficient and pleasant progress of the meeting.
In 2021, the demand for freshly ground coffee in catering and convenience store systems will continue to increase. Compared with black coffee, milk coffee products with a smoother taste and easier to eat are more popular in China. However, most of today's cafeteria and convenience store scenes are black coffee machines, which cannot meet the needs of different customers. The milk path cleaning system and refrigeration function of the NEWSAIER 5000A coffee machine reduces the concern about the management and hygiene and safety of the coffee machine in the convenience store of the restaurant. At the same time, it adopts black technology hot and cold milk foam technology. In professional mode, the milk foam dry humidity and air intake can be customized through the background. Independent steam and independent hot water are easy to operate, allowing the service staff to become patient in an instant. Professional baristas, from beans to cups, freshly produced hot and cold milk coffee products that are thicker and thicker than those on the market within 50s for customers. Whether it is regular coffee or specialty coffee, you can't beat NEWSAIER 5000A.
According to different consumption habits, NEWSAIER 5000A can be combined into a freshly brewed beverage machine that is not only coffee, but also tea and other beverages. Provide a variety of ways to freely combine to meet different coffee flavors and improve peak production efficiency. The 5000A freshly ground coffee machine adopts the global first-line brand supply chain, double boiler, double gear pump design, to ensure the quality of beverages and the stability of the equipment, its independent intelligent digital IOT network management background, help you analyze data and customer behavior, help you increase sales.