Shanghai International Hospitality Equipment & Foodservice Expo
2021.3.29 – 4.1 / NECC (Shanghai)
The Hotelex exhibition in 2021 is about to kick off, and we are honored to participate in this exhibition.
First of all, the juicer, we will bring our most popular style, our juicer is very suitable for hotels, whether it is a hotel cafeteria or a water bar, our juicer can provide guests at any time A glass of freshly squeezed orange juice full of VC, and our juicer can not only squeeze oranges, but also lemon, pomegranate, and citrus. Our juicer is beautiful and clean, and  we have applied for many certificates to guarantee the quality of our products.
Our juicer can not only add texture to the hotel, but also bring a different experience to hotel guests. Because most people are pursuing a healthy life at present, they can enjoy a glass of freshly squeezed orange juice during their leisure time. I believe it will Impress your customers. In this way, not only will you bring a good experience to your customers, maybe they will become your old customers invisible.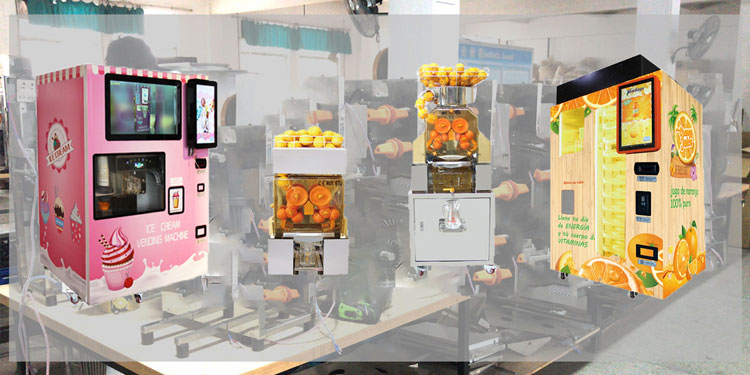 At present, with the improvement of the quality of life, more and more people like smart and healthy lifestyles, and our vending machine can bring people such a fast and convenient life. We have an orange juice vending machine: when you pursue a healthy life At this time, you might as well have a glass of freshly squeezed orange juice, which will not only bring you full VC, but also allow you to get a freshly squeezed healthy juice that belongs to you in a society where most of them are processed beverages. Our ice cream vending machine: regardless of age and gender, it will be the most popular drink, saving manpower, but never saving taste is our aim.
Our other items, whether it is a pineapple peeling machine that can quickly peel the skin, or a lemon machine that can squeeze small kumquats and small lemons and calamansi, will be your most powerful helper in life and business. Their existence is not only The power of speed and time is more to bring you a lot of convenience in life, as well as commercial feasibility and development.
We need to focus on our coffee vending machine: Last year we developed our first generation coffee vending machine, and the response was very good. Our coffee vending machine uses foreign internal parts, such as brewers, grinders, etc. We are committed to our quality, but we have overlooked an important point. We only have hot coffee, but now most people like iced coffee. For example, iced American style has a very wide audience, so in the later time, our R&D personnel spent most of their energy, financial resources and manpower to develop our second-generation coffee vending machine, which can make iced coffee. At this exhibition, you will be able to see our new products. I believe It will bring you a different experience and a different taste.
If you are interested in any of our products, please visit us at the exhibition during the period of 20.3.29-2021.4.1.
Our booth NO. is 2.1K24.  Welcome to visit us!